In mid-December, Facebook quietly launched a new feature that helps people find top-rated local service providers in a local search & directory format.  According to the site, it recommends those with "the best Facebook reviews and ratings."  Clearly, this is a foray by Facebook into the space currently occupied by Yelp, Angie's List, Google+ and other review-oriented consumer sites.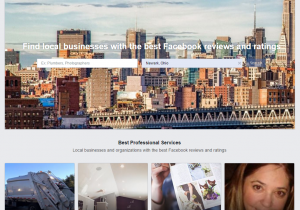 This will be an interesting test for Facebook.  Facebook Pages are used extensively by businesses large & small to stay connected to existing customers, provide updates & announcements and, in general, keep their brand top-of-mind.  Active & popular businesses can collect thousands of followers ("Page likes") as well as reviews & ratings.  Where Facebook Pages struggle is in helping businesses find new customers.  All of the Page activity typically does not help a business get in front of consumers who need their product or service, but do not actually know their business.
Facebook certainly has both the raw number of consumers (i.e., nearly everyone) on its platform and the participation of businesses through Facebook Pages to be a formidable player in this space.  The big question is whether they can bend consumer behavior to start at Facebook when looking for a service provider.  Consumers know Google, Yelp, Angie's List, etc. as places to go to find service providers and read reviews.  Facebook is not currently on that list.  It's a monumental task to drive that kind of shift in behavior.  When a consumer needs an electrician or a plumber, will they turn to Facebook first instead of, say, searching on Google?
There are similarities to Google Plus, Google's failed effort to compete with Facebook as a social network.  At the time of its inception, Google had more people regularly using its products & services (search, Gmail, etc.)  But getting those same people to adopt Google Plus as a social network proved to be a monumental challenge.
It's also interesting which business categories Facebook chose to highlight… or better stated, the ones they omitted.  Restaurants, the bread-and-butter of Yelp, are noticeably absent (though you can search restaurants if you choose).  It seems likely that Facebook that rather than taking on Yelp in their wheelhouse… and possibly paling in comparison, they are nipping around the categoies at the edges while they refine & learn.
All this said, it will be interesting to see whether ratings & reviews are the main driver behind how Facebook surfaces its recommended businesses.  Consumer reviews are certainly one way of helping consumers find the best businesses.  Here at Zappenin, we believe it is the entire scope of businesses' authentic social activity that when summarized, help consumers best select a business for their product or service need.  Facebook reviews are one important signal, but there are other social signals, and other social networks, to consider as well.
However it turns out for Facebook, it is validating to see that attempts are being made to tap into social activity to help consumers find businesses.  Businesses are being encouraged to leverage social media more & more.  This activity, when done well, should reward businesses with more new customers.  This is certainly our mission here at Zappenin.