One of the best ways to ensure your business receives maximum visibility on Zappenin is by "claiming" your business listing.  By claiming, you can add to & edit the information displayed about your business.  Best of all, it is totally free.
Here's how you do it:
Create an account on Zappenin.  Simply complete and submit this very short form.  Then be sure to check your email for a link to confirm your email address is valid.
Once your account is set up, either claim an existing listing (if your business is already listed on Zappenin) or add a new listing if it is not.
To claim an existing listing:
To see if your business is already listed, simply use the search box at the top of the page to see if you can find it.  If you do find it, look for the "claim" link on the page:

Upon clicking, complete the simple form to request to claim the listing.  Any information you provide to confirm you are authorized to represent this business is helpful.  (We don't want people "hijacking" business listings that are not their own.)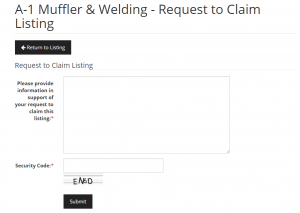 After we receive and approve your request, your listing will appear in your My Account section where you can add to & edit it.
 To add a new listing:
If your business is not listed on Zappenin, then go to the "Add A Business" link located in the top menu bar.
There you will be able to categorize, add important information about and submit your business.
Some Tips
When either claiming or adding a listing, here are a few important tips to make sure you listing looks and ranks well for potential customers:
Be sure your business name, address, phone and (if available) website are accurate.  These are the staples of a great listing.
Add a logo or other image.  Your logo not only makes your listing look great for customers, but it is also used to display your listing in the search and browse.  Listings with logos look far more appealing.
Add both a short and long description.  Use these to tell potential customers what products & services you provide and why they should choose you over competitors.  Short descriptions are used in Zappenin's search, browse and other locations around the website.  The long description is displayed on your business's listing page.  Both are very important.  Note: pay close attention to spelling and grammar when writing your descriptions.  These types of errors lower your credibility with customers.
Add your social network accounts and pages.  This, above all things, is most critical on Zappenin.  Our algorithms use your social network activity to calculate a ZapScore.  Simply put:  if we don't know about your Facebook page, Pinterest account, Instagram account, etc., then you will not rank as well when potential customers look for you on Zappenin.  So make sure you tell us!
Lastly, don't be afraid to start.  Some business owners feel they need to block off an extended period of time to fully complete their listing.  Wrong!  You can edit & update your listing any time you want via your My Account page.  Meanwhile, potential customers are using Zappenin 24 hours a day, 7 days a week.  So the worst choice is doing nothing at all.  Even if it's not perfect, you can always change it later.